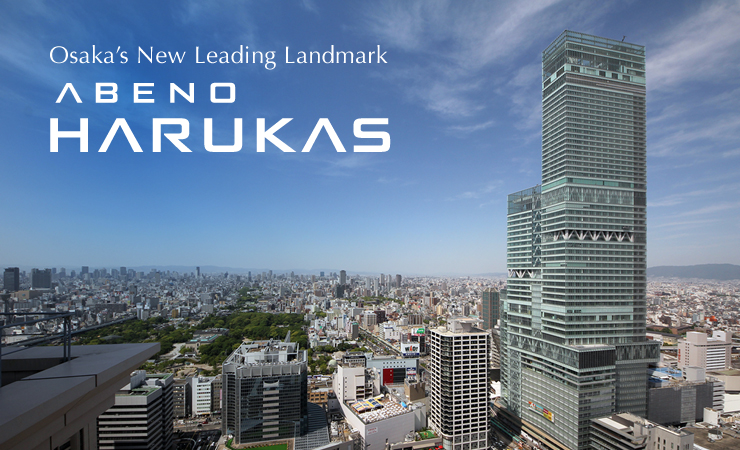 Name & logo mark of OSAKA HARUKAS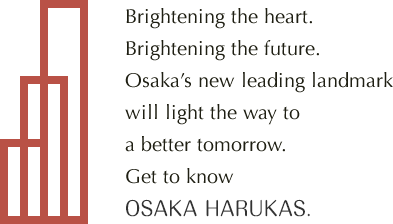 "Harukas" is an old Japanese expression meaning "to brighten, to clear up."
As its namesake suggests, OSAKA HARUKAS embodies the exhilation of clear, sweeping
views of Osaka from its top floor 300 meters in the air.
The complex's wide array of facilities and amenities answer every need,
promising every visitor a relaxing time in a bright, comfortable environment.
OSAKA HARUKAS is the future of multifunctional urban space in the sky.
Development Vision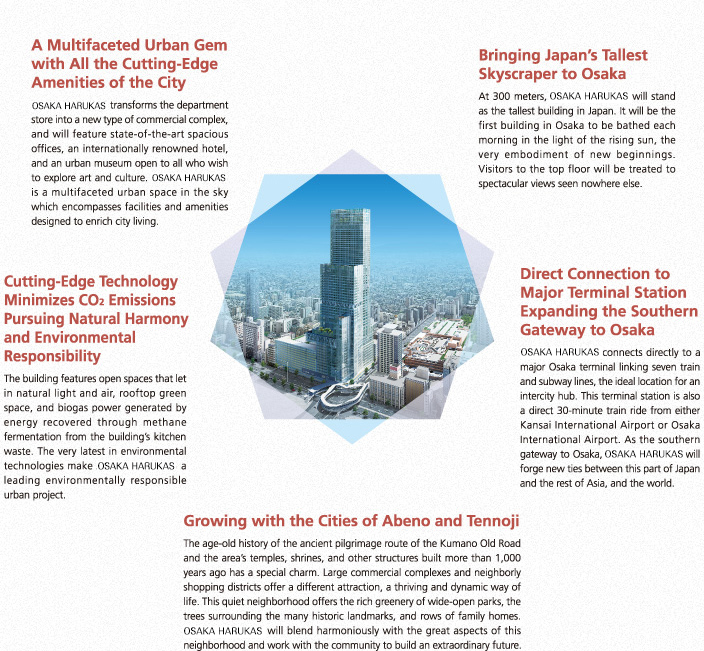 Spec
Proprietor
KINTETSU REAL ESTATE CO.,Ltd
Address
1-1-43 Abenosuji, Abeno-ku, Osaka, Japan
Primary intended uses
.
Station, department store, office, hotel, art museum, and observation deck
Total site area
approx. 28,700㎡
Gross floor area by application
department store, approx. 167,000㎡(Tower Wing, approx. 83,000㎡);
office, approx. 62,000㎡;
hotel, approx. 32,000㎡(360 rooms)
Stories
60 aboveground, 5 underground
Building height
300m
Structural materials
Steel frame, steel frame-reinforced concrete
Automobileparking spaces (newly constructed)
Approx. 180 automobiles (dedicated parking spaces for offices and the hotel)
Design supervision
Licensed first-class architects' office of Takenaka Corporation, Osaka
Supervision of the exterior design
César Pelli, representing Pelli Clarke Pelli Architects
Construction
Consortium of Takenaka Corporation, Okumura Corporation, Obayashi Corporation, Dai Nippon Construction, and The Zenitaka Corporation

Access
Directly above Ōsaka-Abenobashi Station
Direct access to Kansai International Airport,
Osaka International Airport, Umeda and Shin-Ōsaka.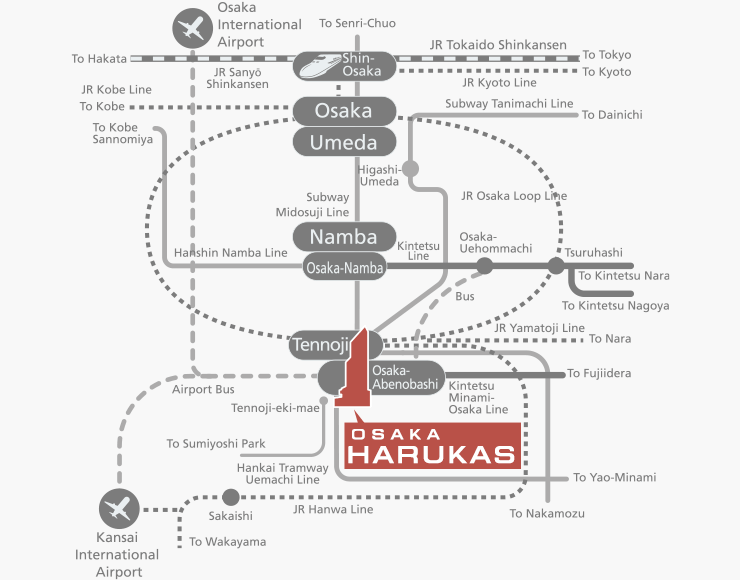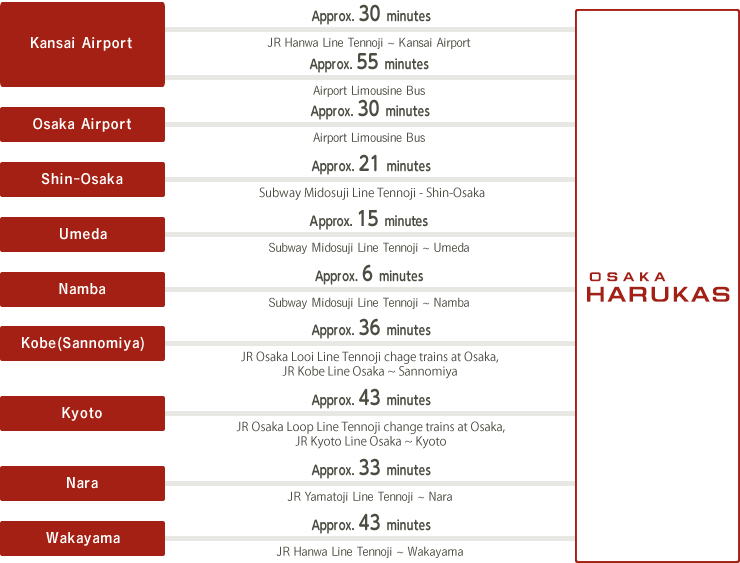 Construction plan for "OSAKA HARUKAS"
Autumn 2006
Started considering the plan.
March 2007
Deregulation of Osaka International Airport)
August 2007
Announced the Abenobashi Terminal Building reconstruction plan.
November
Osaka City developed its urban planning for "Special Urban Renaissance Districts."
January 2008
Improvement work for Osaka Abenobashi Station launched.
March 2009
Demolition work for the old building (western portion) of Kintetsu Department Store launched.
West ticket gate of Osaka Abenobashi Station relocated.
January 2010
Foundation work for Abenobashi Terminal Building launched.
March
ANZENKIGANSAI (a ceremony performed to pray for safety) held.
February 2011
Construction work for the aboveground part launched.
RICCHUSHIKI (ceremony that celebrates the erection of the first colums) held.
August
The height of the steel frame reached 100m
The name of the building was chosen as "ABENO HARUKAS."
March 2012
The height of the steel frame reached 200m.
June
The height of the steel frame reached 263m(the highest in western Japan).
August
The height of the steel frame reached 300m (the highest in Japan as a building).
October
Ridgepole-raising ceremony held.
June 2013
Kintetsu Department Store: "Abeno HARUKAS Kintetsu Main Store" Opens Ahead of Time in the Tower Building
March 2014
Grand opening